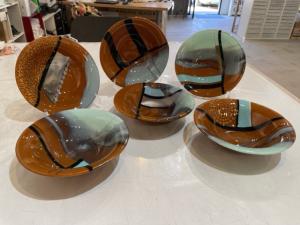 Handcrafted set of bowls, each with it's own unique design.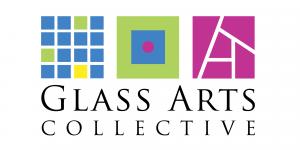 Art Gallery, Gift Shop, and Teaching Studio
Art Gallery Exhibit of Glass Art and Reception to Meet the Artist – Barbara (BJ) Fitzgerald
Art is when you hear a knocking from your soul…and you answer"
— Guillemets
WESTLAKE VILLAGE, CA, UNITED STATES, August 31, 2023/EINPresswire.com/ — Unveiling the Brilliance of Glass Art: Meet Our Visionary "Artist of the Month", in our first Art Gallery Exhibition!
We are so excited to announce the unveiling of the Artist of the Month program. This month's spotlight is Barbara J Fitzgerald. We proudly introduce an imaginative glass artist whose boundless imagination in the medium of fused glass.
With a passion for pushing the boundaries of creativity, Barbara has embraced the art of glass. Through an intricate blend of vibrant colors, captivating textures, and innovative designs, she invites viewers on a journey of awe and inspiration.
We extend a warm invitation to all art enthusiasts, collectors, and those with a curiosity for the extraordinary. Join us in celebrating the incredible talent of this month's Artist Barbara J Fitzgerald. A long-term resident of Ventura, CA.
Barbara will be donating a portion of her proceeds to the Ventura County Library Foundation.
Event Details:

Date: The exhibit is all of September 2023, There will be a special opportunity to meet Barbara Fitzgerald in person, hear her story, and ask questions about her collection of art, at a Reception.
Reception Date: September 17, 2023 Time: 11:00am – 3:00 pm

Location: Glass Arts Collective

31139 Via Colinas, Unit 201

Westlake Village, CA 91362
http://www.glassartscollective.com
About Glass Arts Collective – A local small business bringing classes in fused glass, stained glass, and mosaic to the community. With an Open Studio program for those artists that have the skills and need a place to be creative in a warm bright environment.
A gift shop of handcrafted art created by the Open Studio members. Most are unknown and have no place to showcase their fantastic talents. We have created this Art of the Month to bring Glass Art techniques and unique qualities to the area. This is different from glass blowing which is more well known on TV, and in galleries.
Nancy Marks
Glass Arts Collective
+1 818-318-1462
email us here
Visit us on social media:
Facebook
Instagram


Originally published at https://www.einpresswire.com/article/653063813/unveiling-the-brillance-of-glass-art