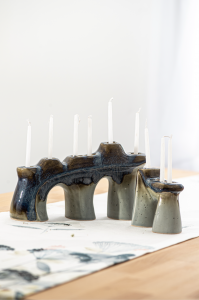 ish, Rookwood Pottery, and Jewish Federation of Cincinnati Menorah 2
CINCINNATI, OHIO, UNITED STATES, October 31, 2023 /EINPresswire.com/ — ish, a local community engagement organization that embraces Jew-ish arts and culture as a platform for connecting people across cultural divides, has proudly partnered with Rookwood Pottery and the Jewish Federation of Cincinnati to present the Cincinnati Menorah. This unique Menorah symbolizes not only Jewish tradition but also universal themes of Hanukkah – resilience, unity, and the joy of sharing light with others.
As we navigate through these challenging times, marked by the ongoing events in Israel and Gaza, the message of Hanukkah becomes profoundly relevant. It is a reminder that even in adversity, we can find beauty, joy, and unity. The Menorah stands as a symbol of hope and solidarity, not just for the Jewish community but for all of humanity.
Designed by Maxwell Holden and modeled by Jen Watson, the 'Cincinnati Menorah' is an abstract representation of the traditional menorah, providing versatility with its unique design and the ability to use various types of candles.
This Menorah serves as a reminder of the importance of coming together to practice Jewish traditions and celebrate the enduring human spirit. It encourages us to reflect on the broader context we live in and to find solace in the rituals that connect us to our history and culture.
You can now purchase this extraordinary piece of Cincinnati history at www.ishfestival.org, with 100% of the sales proceeds supporting future ish arts and cultural programs, fostering connections and community through the arts and Jewish culture.
About Rookwood Pottery
Established in 1880, Rookwood Pottery is celebrated for its handcrafted ceramic pottery, known for its timeless and beautiful designs.
About ish
Based in Cincinnati, Ohio, ish creates intentional spaces for connection and acceptance through arts, creative experiences, and new-ish rituals rooted in Jewish cultural traditions.
The Cincinnati Menorah is a part of the Jewish Cincinnati Bicentennial legacy project, celebrating 200 years of Jewish life and community building in Cincinnati.
The Jewish Cincinnati Bicentennial is a community-wide celebration of the 200th anniversary of Jewish Cincinnati, which formally began with the founding of Chestnut Street Cemetery in 1821. This celebration honors the contributions of Jewish Cincinnatians to the city's growth and development over the past two centuries. Through a series of events and initiatives, the Jewish Cincinnati Bicentennial seeks to engage the community in reflecting on the past, celebrating the present, and building towards the future of Jewish life in Cincinnati. The Jewish Cincinnati Bicentennial is presented by the Jewish Federation of Cincinnati.
Contact:
For media inquiries or additional information, please contact ish's Director of Communications & Brand, Lauren Goldberg, at [email protected] .
Purchase:
https://www.ishfestival.org/menorah.html
Lauren Goldberg
ish
[email protected]
Visit us on social media:
Facebook
LinkedIn
Instagram


Originally published at https://www.einpresswire.com/article/665134532/the-cincinnati-menorah-illuminating-unity-tradition-across-generations-by-ish-the-jewish-federation-of-cincinnati