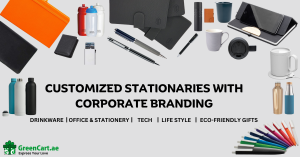 Customized Stationaries with Corporate Branding
Sustainable Gifts – Corporate Gift Delivery Service in Dubai
Online Gift Delivery Platform GreenCart Broadens Offerings with Corporate Gifting Solutions
OUD METHA, DUBAI, UNITED ARAB EMIRATES, October 11, 2023 /EINPresswire.com/ — GreenCart.ae Expands Product Line to Include Corporate Gifting Solutions:
GreenCart.ae, a renowned online gift store in the United Arab Emirates, is excited to announce the launch of its new corporate gift delivery section. This expansion comes in response to the growing demand for high-quality corporate gifts that reflect professionalism and sustainability.
Corporate Gifting Section with Diverse Range of Customizable Products:
In an effort to provide businesses with tailored gifting solutions, GreenCart.ae is now offering an extensive selection of corporate gifts that include office stationery, drink ware, lifestyle items, technical gadgets, and eco-friendly products. These offerings are designed to meet the unique needs of corporate clients seeking to strengthen relationships with employees, clients, and partners through meaningful and eco-conscious gifts.
Customized Office Stationery:
The corporate gift segment boasts a wide array of customizable office stationery, from elegant pens and notebooks to premium leather portfolios. These items can be personalized with company logos, names, or special messages, making them ideal for corporate branding and employee recognition.
Stylish Drinkware:
Corporate clients can choose from a range of sophisticated drinkware options, including custom-designed mugs, tumblers, and water bottles. These high-quality products can be tailored to match a company's aesthetic or convey a specific message, making them perfect for corporate events, promotions, or client appreciation gift.
Lifestyle Items:
GreenCart.ae's corporate gifting collection also includes lifestyle items such as leather accessories, tote bags, and executive gifts. These stylish and functional products can be personalized to showcase a company's commitment to quality and attention to detail, making them ideal for employee incentives and executive gifts.
Technical Gadgets:
In today's tech-savvy world, gifting cutting-edge technology can leave a lasting impression. GreenCart.ae offers a range of technical gadgets, including USB drives, power banks, and Bluetooth speakers, which can be customized to feature a company's branding or a special message. These items are perfect for employee recognition rewards and premium client giveaways.
Eco-Friendly Products:
Sustainability is at the heart of GreenCart.ae's corporate gifting philosophy. The eco-friendly product selection includes reusable shopping bags, bamboo office supplies, and recycled materials. These gifts not only demonstrate a company's commitment to environmental responsibility but also align with the global push towards eco-conscious business practices.
With this expansion, GreenCart.ae aims to empower businesses in the UAE to strengthen their professional relationships through thoughtful and sustainable gifting. Whether it's recognizing employee achievements, expressing gratitude to clients, or celebrating milestones, the online gift store offers a range of options to suit every corporate occasion.
Extracts from GreenCart press statement:
"We are thrilled to introduce our new corporate gift delivery segment to cater to the evolving needs of businesses in the UAE. Our diverse range of customizable products allows companies to express their appreciation, enhance their brand image, and contribute to a sustainable future. At GreenCart.ae, we believe that meaningful gestures can create lasting impressions, and we are excited to help businesses achieve that."
About GreenCart.ae:
GreenCart.ae is a leading online gift store in the United Arab Emirates, dedicated to providing thoughtful and eco-conscious gifting solutions. With a wide range of customizable products, including office stationery, drinkware, lifestyle items, technical gadgets, and eco-friendly products, GreenCart.ae aims to enhance corporate relationships through sustainable and meaningful gestures.
For more information, please visit https://greencart.ae/corporate-gifts.html
For media inquiries, please contact: [email protected]

Or WhatsApp us at https://wa.me/+971556433689
Kancheri Majeed
GreenCart.ae
[email protected]
Visit us on social media:
Facebook
LinkedIn
Instagram
YouTube
TikTok
Other


Originally published at https://www.einpresswire.com/article/660124776/greencart-ae-expands-product-line-to-include-corporate-gifting-solutions